NOTICE:
Our Practice has MOVED
Our new location is:
Suite 405
1815 South Clinton Ave
Rochester, NY, 14618.
The NEW phone number is 585-565-3500
---
For appointments call
585.565.3500
Fax Number:
585.434.4081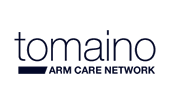 Since beginning to rigorously solicit feedback since April of 2012, Dr Tomaino has exceeded national benchmarks for patient satisfaction in these categories. This graph shows the percentage of "5's" (with a 5 being perfect) given to us compared to the national average.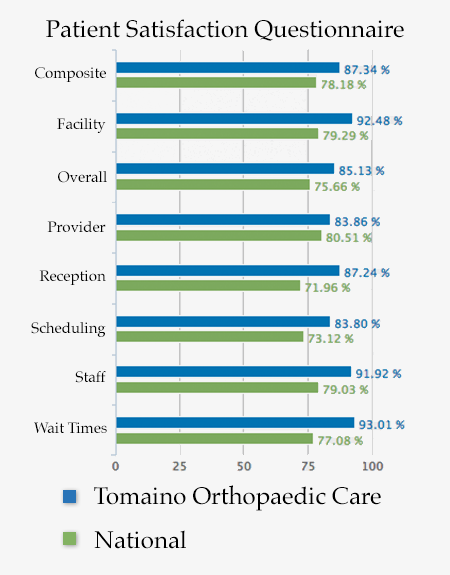 Dr. Tomaino's view on Patient Reviews:
We don't view reviews as either right or wrong but, rather, always absolutely valid. We feel that reviews are about how you felt about your interaction with us so we want to know. If you'd like to give us a review after your visit with me'we would appreciate it. Please take this opportunity to help us continue to develop so that we may provide the best care for you. If you would like to see what other patients feel about their experience with us, read the reviews below.
Nothing. The office is beautiful and immaculate. All the staff were very professional and friendly. Dr. Tomaino was warm and welcoming. He really took time to help me and did not rush the process like others have before.

Aug 11 2014

You cannot improve on perfection so since you all are perfect I would not change a thing.

Aug 10 2014

I can't think of anything. You run a very efficient office!

Aug 04 2014

Nothing needs to be improve, it is all outstanding

Aug 04 2014

Send me home with MRI photos and show what will be done to correct the problem.

Aug 04 2014

I love it there!!! Couldn't be a more pleasant experience!! And that even includes getting injections :)

Jul 31 2014

There is nothing I would change. Everyone is caring and courteous

Jul 21 2014

Nothing I had a warm experience keep it and Dont change a thing...

Jul 21 2014

Move closer to Binghamton! No, had no issues!

Jun 20 2014

My experience was one of the best I ever experienced medically and I would not change a thing.

Jun 12 2014

Can't think of anything. Provide free coffee? lol But there wouldn't be time to drink it because I never have to wait long for my appointment!

Jun 11 2014

absolutely nothing. you all were great. thank you so much . it was great meeting you all. i would highly recommend you. i am feeling better.

Jun 10 2014

more PT instruction.

Jun 10 2014

I really would have to struggle to find something that your office could improve upon. My experience at Dr. Tomaino's office was very professional and courteous. Very nice job. My thanks and appreciation.

Jun 10 2014

Nothing God Bless you all

Jun 10 2014

I can't think of a thing!

Jun 10 2014

You have a very efficient office staff, and that is half the battle.

Jun 09 2014

I can not come up with one suggestion.

Jun 02 2014

Need more time with doctor to ask questions

May 10 2014

there is not one thing I would change.

May 08 2014

I was so completely satisfied with my treatment while in your care, I honestly can not think of a think I would have you change :)

May 08 2014